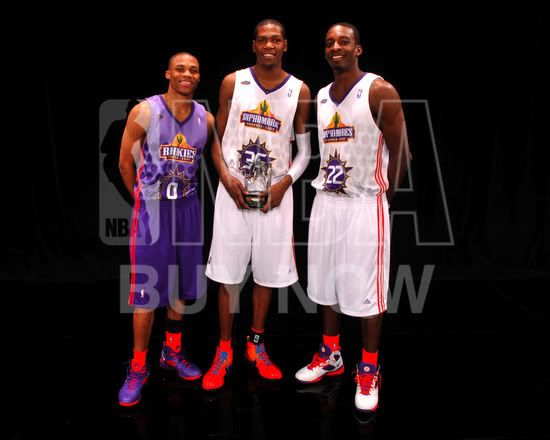 As sports fans we are all guilty of hopping on a bandwagon at some point in our spectating career. Maybe it was watching the young Tampa Bay Rays make a run at the World Series last year, which most people and so-called experts would have thought was impossible. Some of you might have hopped on the New England Patriots bandwagon during the early part of this decade to cheer for a franchise that was as close to being a championship dynasty as we have seen in a long time. Maybe some of you hop on teams' bandwagons just because of certain players that you love, like the Cleveland Cavaliers because of LeBron James or the Washington Capitals because of Alexander Ovechkin. What I am getting at here is that it doesn't matter why you hop on to a team's bandwagon, but that we are all guilty of doing so.
For those of you who are still living in denial and swear that you have never hopped on a bandwagon, let me educate you on the definition of "hopping on the bandwagon." Hopping on the Bandwagon, can be closely related to opportunism, as more people come to believe in something, others will follow and hop on regardless of how they might have previously felt.
Now it is my pleasure to introduce you to the Oklahoma City Thunder and their bandwagon, which, trust me, has plenty of room for us all to hop on. Some of you might be wondering why I would talk to you about hopping on to the bandwagon of a team who is currently 13-43. My response to you would be that yes, usually the term hopping on the bandwagon refers to cheering for a team because they are winning. But this one is different, because people are going to hop on this team's bandwagon regardless. Not only are they becoming one of the NBA's most exciting teams to watch, but they are also on the verge of being a monster franchise within the next five years.

Since the start of 2009 the Thunder are 9-14. New Head Coach Scott Brooks took over on November 22 and has seemed to have a more positive impact on this young group when compared to his predecessor, P.J. Carlesimo. Most of you are probably scratching your heads again, wondering when a record of 9-14 become an impressive mark. Well you're right that it isn't that impressive…unless you take into account the team. The average years of experience for this crew is only 4.5 seasons. This number doesn't even do justice to how inexperienced and youthful the team is, because they have five players with seven or more seasons of experience, accounting for a total 49 of NBA seasons. The Thunder currently have seven players who average over 20 minutes per game. The average age of those seven is 25 and they average 3.5 seasons of experience as well. That is an extremely young and inexperienced group that is eating up the majority of playing time for the team.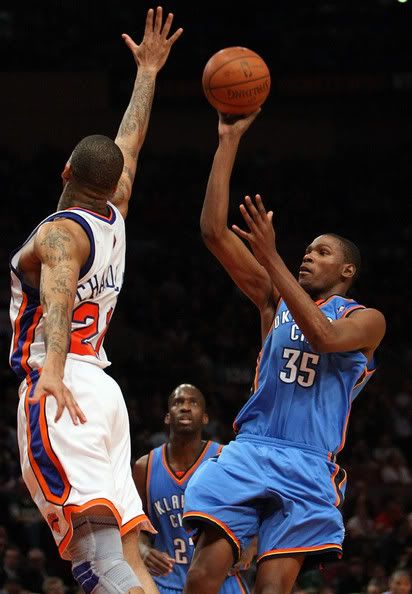 The Thunder appear even younger when you think of who the core pieces of this franchise are. Meet Kevin Durant, Jeff Green and Russell Westbrook. These three ballers are not only the future of the Thunder but they are the present. These three are the only players on the team that are averaging more than 30 minutes per game and between them they hold only two seasons of NBA experience. That's right – two of them are in their sophomore season while the other is in his rookie season. It's not like any of them are experienced at the college level, either. Jeff Green left Georgetown after his junior season, Kevin Durant left Texas after his freshman season, and Westbrook left UCLA after his freshman season as well. So these three actually only have seven seasons experience of post-secondary basketball…between them. This is where most of you should be saying "are you kidding me?" These three are taking the NBA by storm with their energy and talent and they are younger than most of you who are reading this article right now. Two of them can't even buy alcohol legally in the States right now, yet they are embarrassing NBA veterans with their skills on a nightly basis. These three are the Big Three of the future, the Big Three that will follow Boston's Big Three, the San Antonio Big Three, or even the Lakers' Big Three.
So we know the Thunder are improving and that they are very young and inexperienced, so they should only get better as they become older and get more games under their belt. We also know that to be a contender in the NBA, having three stars isn't enough; you need to have role players. Even the Celtics had Rondo, Perkins and Posey to help win the title. So are Earl Watson, Thabo Sefolosha, Nick Collison, Nenad Kristic, and Desmond Mason good enough role players to help this team become a powerhouse in the Western Conference? Probably not, even though Earl Watson is a solid backup point guard and can also play on the court while Westbrook plays the two-guard, and Nenad Kristic is a young offensive minded big man who can add an offensive presence on the block. None the less, they do not have the pieces in place just yet.
This is where the next piece of the puzzle comes into play. The Thunder have four 1st round picks over the next two offseasons. They have their own first round pick this year, which will most likely be a high lottery pick, along with a first round pick from either Denver or San Antonio (whichever is better, the lesser belongs to Chicago), which will most likely end up at the bottom end of the first round. For the 2010 Draft they still have their own first round pick as well as the Phoenix Suns' first round pick (unprotected). This means that they now have the opportunity to either draft four more quality players in the next two years to, giving them a very young seven man rotation they hand-picked, or they can use these picks as leverage to trade for some ready-to-contribute players next season or the year after, putting them right into playoff contention. They also have about $27 million coming off of the books after this season that can be saved for the eventual extensions of their big three or for signing a big name free agent this offseason. Can anyone say David Lee? He is a free agent this year and would be a pretty good fit in the Thunder's system.
No matter how you look at it, the Oklahoma City Thunder are a team that is on the rise and could be the future of the NBA. That's right, I said a team named the Thunder that is from Oklahoma City could be the next powerhouse of the NBA. Bet nobody saw that coming a couple of years ago. If this does happen, this is only going to frustrate all those people back in Seattle even more because it looks like they were only a few years away from being back to the days of the Rain Man Shawn Kemp and Gary Payton.
I urge you to watch some Thunder games if you aren't already on the bandwagon, and watching them as much as you can, like me and my friends are. They are fast, young and exciting, and every game you watch they'll be better than the last.