In 2009, Ben Zobrist has been, to say the least, a surprise. A terrific surprise, at that. A minimum-contract player once acquired as part of an Aubrey Huff trade (along with Mitch Talbot), the 2004 sixth round draft pick of the Houston Astros has made quite the impact for the Tampa Bay Rays this year.
Seriously, this came out of nowhere.
Coming into this year, Zobrist had accumulated just 530 plate appearances over parts of three seasons with the Rays. He had an OPS+ of 48 in 2006, a disgusting OPS+ of 4 in 2007 (meaning he was 4% as good as a replacement player, really), and was a below average defensive contributor in each of those seasons.
In 2008, things seemed to click a little bit for Zobrist. In 227 plate appearances over 62 games, Zobrist put up an OPS+ of 118, stroking 12 home runs in a very small span. Because the production was spread out over the entire second half, his prominent bench role went largely unnoticed. Zobrist also improved his glove, splitting time at shortstop (still –18.1 UZR/150), second base, third base, and all three outfield positions. A fielding score of –2.2 runs above replacement isn't terrible for a young player being asked to play six positions. So the signs of change were apparent.
But this? This has been incredible…enough so that I had to take a closer look at the transformation from Ben Zobrist to Zorilla.

So far in 2009, Zobrist has done the following damage: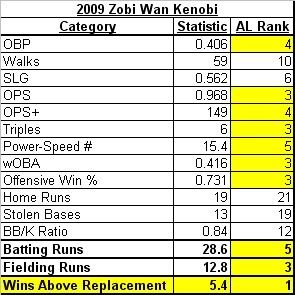 That's an incredible set of statistics for any player, let alone someone who was expected to be an off-the-bench afterthought this year. An injury to Akinori Iwamura gave Zobrist the chance to shine early, and he hasn't slowed for a second. In fact, he and Jason Bartlett not only combine to create a formidable hitting and fielding middle infield duo, but they are also the biggest surprise tandem…well, probably ever.
First, I want to make a quick note of his defensive improvement. Formerly a below-average defender across six positions, Zobrist has provided 12.8 fielding runs (or about 1.3 wins in the field) already, and he has a positive UZR/150 at second (25.9), where he has spent the majority of his innings. This improvement could be the result of extra field work, the switch to a more permanent position, or because of small sample sizes in previous years.
What's impressive about Zobrist is that it appears he could keep this up into the future. While his minor league numbers didn't suggest this kind of power (his 20.4% HR/FB is monstrous and way higher than anything he ever produced), the speed and batting eye have always been there. Per The Hardball Times, Zobrist never had an OBP below .400 in the minors (save for a sample size exception). Per the same article, Zobrist has gotten into more 3-0 counts than anyone not named Albert Pujols. With over 10% of his plate appearances getting to a 3-0 situation, Zobrist is taking a lot of pitches and waiting for ones he can drive. He's only swung at 36% of pitches overall, so his 15.7% walk rate is clearly sustainable – even more so if pitchers become afraid of his new-found stick. Likewise, his Speed Score (a complicated calculation that may or may not be predictive, but I like as a descriptive statistic) has been around 5.0 or 6.0 every year, so his 6.8 score this year isn't out of character.
So the real question about the offensive performance is if the power can keep up. At 6'3", 200lbs., Zobrist doesn't exactly have a power hitter's profile, but he does a good job selecting which pitches to hit, as I just outlined. While he's only seen fastballs 49.7% of the time, he has added 2.23 runs per 100 fastballs, and he has a positive mark for every pitch other than a split-finger and a knuckleball, both of which he rarely faces (less than 2% of the time). His selectivity (his 18.6% Outside-Swing% is well below the 25.1% league average) is really the key to his success. Zobrist simply does not have bad at bats.
There's one additional note that may explain his power production, and may lead us to believe it's sustainable into the future. While the keen batting eye and intelligent plate approach are both huge factors, he also altered his swing significantly after the 2007 season. This is not an advertisement, but Zobrist credits the Mkanx Swing Mechanic for his change in power. While product testimonials are usually untrustworthy or vague, I've researched this product and it's creator Jamie Cevallos, and this appears to be quite legitimate. The science behind the practice bat forces hitters to drive the bat with their body weight and rely less on their hands and wrist, getting the player in the slot position earlier and forcing him to use his larger and stronger muscles to swing. Muscle memory from the practice bat will then carry over to a more powerful swing with a regular bat. D-Rays Bay broke this down with a quote from Cevallos:
"I took one look at his swing and knew that I was going to help him. Not that it was really bad, I just saw opportunity." After Zobrist's time in the cage was up, the two were introduced and Zobrist agreed to workout with Cevallos. The two would meet up a few days later and begin the process. Zobrist also brought along Drew Sutton, who was a former teammate of Ben's in the Astros Organization and is currently in the Cincinnati Reds system. As part of Cevallos's system, he filmed the players from both angles as both Zobrist and Sutton are switch hitters.

From there, Cevallos gathered the information needed and went to work. "I took the video home to analyze and we met again a few days later" he said. "I broke down their swing the way I do. They had never seen anything like it. I gave their swings a rating and showed them how they can improve the number." That rating is called CIR or Cevallos Impact Rating. "The swing rating scale measures how consistent and powerful a player is" Cevallos explains. "With the right mechanics, you will increase power and consistency at the same time. They really compliment each other, but the misconception has been that you sacrifice one for the other." Initially, Zobrist scored a 287 on the CIR scale. For correlation, Cevallos provided me with this list of players along with their CIR, Career OPS and SLG:

Player CIR OPS SLG
Babe Ruth 474 1.1638 0.69
Ted Williams 429 1.1155 0.634
Albert Pujols 409 1.0489 0.624
Ken Griffey 400 0.9192 0.547
Matt Holliday 393 0.938 0.522
GradySizemore 351 0.8612 0.491
Brian McCann 333 0.857 0.499
Tony Gwynn 321 0.847 0.459
Derek Jeter 318 0.848 0.458
Dustin Pedroia 290 0.828 0.459

As you can see Zobrist's power was that of a middle infielder, no surprises there. At first, Cevallos mentions Zobrist was a little apprehensive about changing his approach. "Ben was concerned that he would not be conforming to what the hitting coaches wanted him to be, which was a "spray" hitter, a situational hitter I believe he called it, a guy that is supposed to move guys around the bases and sacrifice himself. I told him that he could be a power hitter AND increase his consistency. He didn't have to settle for that role, I told him, he could have his cake and eat it too." To me that sounds very similar to the change Joe Maddon talked about when Zobrist was told to stop being a singles hitter and "swing harder."

After working together, Cevallos says Zobrist now rates at a 360 on the CIR scale, which would put him just above Grady Sizemore and approaching Matt Holliday.
Obviously, Zobrist has made a significant change. Whether this is the root cause or part of a bigger equation, the fact remains that Zobrist has always been a smart hitter, and he has now changed his approach to afford him more power. These numbers could very well be real and sustainable.
I personally hope they are. Stories like Zorilla's are rare and they are inspirational when they occur. The Rays were everyone's 2008 darling, and if they can continue to produce young and exciting talent like Zobrist, that should remain true moving forward.
–
I'm also on Twitter. You can follow me here.