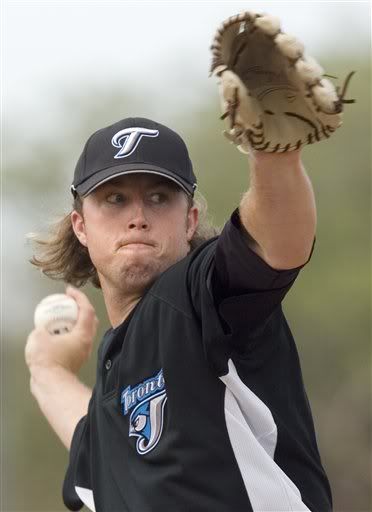 I guess it's difficult to argue with the Blue Jays on this one. After all, the team has the American League's sixth best team ERA with a mark of 4.19, and the company line can sometimes be confused for "if it ain't broke, don't fix it…and if it's mediocre, don't fix it…you know what, just leave it alone."
Still, the fact remains: The Jays are 55-60 at the time of this writing, but their Pythagorean Win-Loss record dictates that, based on runs scored against runs allowed, the Jays should be 61-54. Generally, this kind of gap can point towards bad luck. It's possible, but I also think it's an overlooked statistic when evaluating managers – maybe there is some (or a lot) of luck involved in this difference, but it could simply be an indication that the team fails in close games. The Jays are 14-21 in one-run games, so I may not be too misguided in attributing some of that gap to game management. This, of course, includes bullpen management.
And I'm not calling out Cito. Since I haven't introduced the topic of this article yet, I guess three paragraphs in I should: I'm just wondering, who did Jeremy Accardo piss off?

The Jays acquired Accardo in 2006 from San Francisco, and he was well regarded as a bullpen prospect at the time. While his MLB numbers had been unimpressive, he flourished in 2007 when BJ Ryan went down to injury. Thrust into the closer's role with no prior MLB success, Accardo saved 30 games in 64 appearances while posting a 2.14 ERA. Not to bring up bad (not so distant) memories, but those are numbers BJ Ryan would have killed for this year.
Still, the Jays bullpen was extremely strong in 2008, and when Accardo struggled with a 6.57 ERA over 16 appearances, the team had the talent to let him work it out in the minors and deal with his injuries. Accardo posted a 3.84 FIP at AAA for the season while working through said injury troubles.
This season, I completely expected Accardo to be a key cog in the bullpen, and when BJ Ryan took a trip to closer wasteland, I anticipated Accardo's triumphant return. After all, in 24 innings of relief at AAA he has posted a sterling 2.37 ERA. Instead, we've been treated to Accardo being yanked up and down from the Majors to the minors. Recalled on June 18, sent down on August 1, called up on August 2, and now sent back down on August 13, Accardo has been passed over for lesser relievers on several occasions now.
The Jays bullpen is good, but it's better with Accardo than without, as the table below outlines.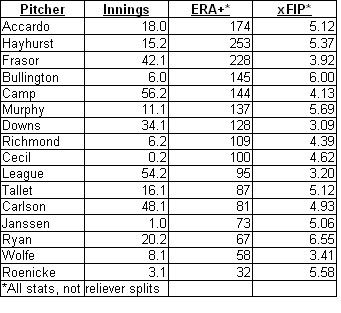 Now, statistics for relief pitchers are not necessarily the best gauge of performance. They are victim to small sample sizes and ignore things like inherited runners and the leverage of the situations they pitch in. Still, Accardo measures up at least as well as most of the arms in the bullpen.
So I'm not really sure what's at play here. He has the arm, the minor league performance, and enough of a Major League track record. Additionally, his major league service time is already up over three years and he'll be due for arbitration regardless this offseason, so it's not a Snider situation where the team is trying to slow his earnings clock. Whether he's out of favor with Cito Gaston, whether the numbers generally overrate him, or if it's an attitude-related issue (which is actually a strong possibility, from what I've gathered), something is keeping Accardo from a well deserved spot in the Jays' bullpen.
–
I'm also a loser…on…Twitter. You can follow me here, but there's not a whole lot of action outside of shameless self promotion.